I have noticed that the Reiss sale stock seems to have been gathered from all the stores and returned to the warehouse, as there is more Reiss sale stock online, than there was.  Reiss make some gorgeous looking pieces, but some of its expensive at full price, so to shop in their final reductions, is a Good Idea.  Here are the best of the sale picks:
1.  REISS | Garland waterfall sleeve dress in midnight navy | 100% viscose | £79 (was £159)
With all things '70's coming in right now, these sleeves, which are quite flattering, suddenly look more modern to me right now.  Perfect desk to dinner dress as the sleeves make it look more "party" than office", but covered with a jacket during the day, its an office appropriate dress:
2.  REISS | Delilah fitted lace dress in black | 45% Viscose 35% Nylon 20% Cotton.  Lined | £79 (was £195)
This looks like the perfect dress for a work cocktail party – interesting, glamorous, but covered up:
3. REISS | Orchid cropped zip jacket in grey | 80% wool, 20% polyamide.   Lined | £120 (was £245)
I would love to buy this, if I had the extra budget (I've been a little indulgent, so had to put the brakes on.  Boring) and the extra wardrobe space (another problem.  More boring).  Isn't it coolly beautiful?!  I live in jackets, here in London, most of the year and love how well they change and "smarten" a plain outfit.
4.  REISS | Noir  neutral high collared fitted jacket | 78% Wool 22% Polyamide | £175 (was £265)
This is one of my favourites, and the sort of great tailoring that makes Reiss stand out from the rest of the high street labels.  Its classic and elegant but quite modern.   Its relatively affordable luxury, too, during final reduction sale time.
5.  REISS | Pinot fitted fishtail jacket in shell pink | 66% Wool 30% Polyester 4% Polyurethane | £135 (was £225)
I approach pink with caution, but this is a lovely rose pink (ie not candy pink).  I wrote about this jacket in this outfit post, and also here is a photo of DemureEst (one of the best workwear Instagram accounts) in it, too:
6.  REISS | Lorena jewelled button black jacket | 59% Cotton 26% Polyester 14% Viscose 1% Elastane | £130 (was £250)
Again, Reiss really excel at this sharp tailoring.  This classic, shaped jacket would look great with coordinating trousers.
Or…something less classic, like this TopShop polyutherane (faux leather) pleated midi skirt (I have it in size 10) and statement heels (like these or, even bolder/better,  these or these).
Or… on the weekend with a partially sheer lace skirt (inspired by Tash Sefton, whose Instagram account I adore – which is where the pic of her is from)
7.  REISS | Michelle Pfeiffer cream wool tuxedo suit | 100% wool. Lined | Blazer £155 (was £265) and Trousers £65 (was £130)
I love winter white and think this tuxedo suit is absolutely superb.  It also comes in black and is the sort of thing that you'd have and love for years and years.
Inspired by…:? (photo credit)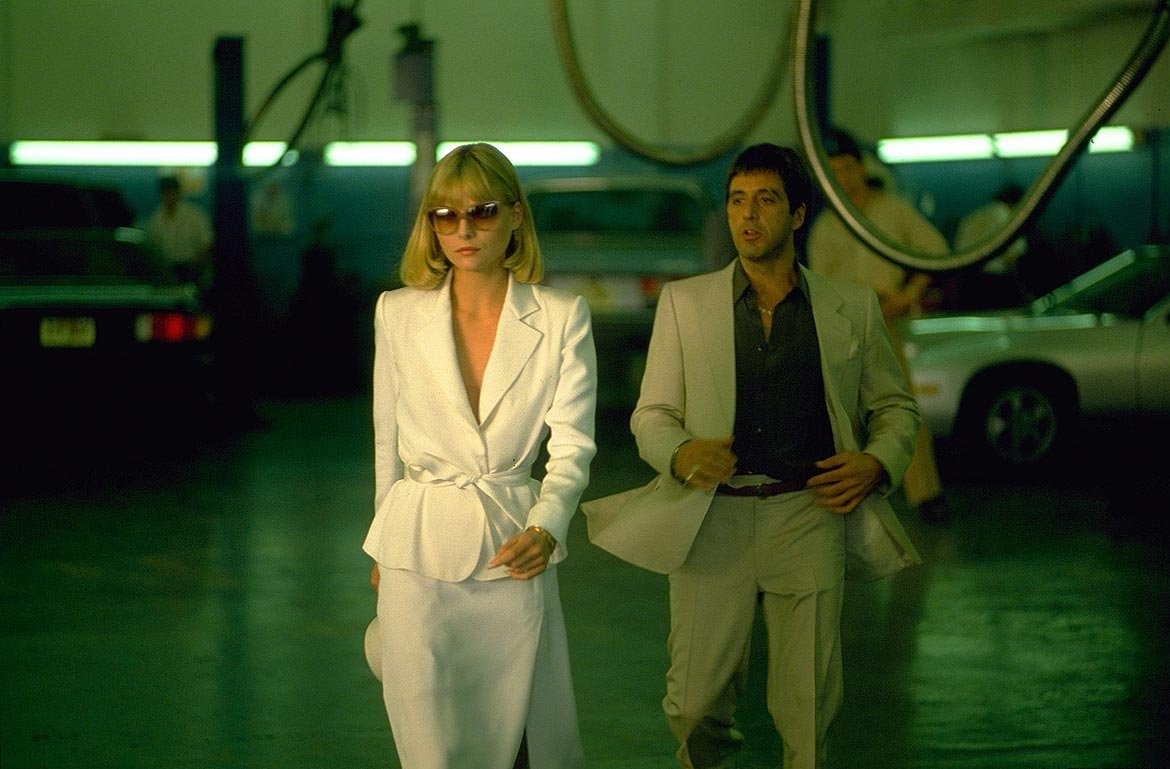 8.  REISS | Ivy print animal court shoes | Upper: 100% Cow Leather (fur aka ponyskin), Leather lining, synthetic sole | Heel height: 9 cm | £79 (was £159).
There are lots of other things in the Reiss sale section, but I'm going to finish by just including my favourite sale shoes, these:
——————-
Thank you for reading, Reader, have a fantastic day.