Many of my workwear outfit posts are black based, as I love black and its easy to match with more black or other colours.  However, as I age (!), I have noticed that sometimes navy is a better idea, and. indeed, I have girlfriends who have more or less abandoned black in favour or navy or grey.  So, here's a navy based outfit board, using 1 jacket and 1 pair of trousers, to create 2 outfits:
The details of the individual pieces are:
1.  REISS | Constance printed sleeveless top | 100% silk | £45 (was £95)
To be honest, I normally prefer to include sleeved tops, but the Dolores sleeved version is sold out online, except for sizes 14 and 16.  This is such a lovely, versatile print, though, that I am including it in case you live somewhere warmer than London, or can wait until spring.  Its worth looking at the Reiss sale range, as they have made their final reductions, and there are some beautiful pieces at affordable prices.
2. MARKS & SPENCER | Autograph Albert suede pointed flats in blue | Suede upper, synthetic lining and sole | £45 
Its 20% off today at M&S, online only, so these are £36 for today.  I might just order the black version…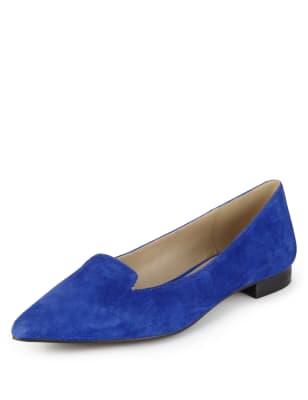 3.  MANGO | Applique texture jacket in navy and black (JACOB) | 100% cotton outer.   Lined.  Vinyl appliques  £34.99 (was £69.99)
Navy and black is now a "thing", and a jacket with both is really quite useful (I have a Zara Chanel-esque one from last year), as it looks good with both, as well as denim.
4.  MANGO (OUTLET) | Cotton suit trousers in navy (JAPO2) | 97% cotton,3% elastane | £17.99
A nice reader was commenting on these, from this Trying It On at Mango post, and then alerted me to these trousers being available on the Mango Outlet.   They are really flattering on me, and I need size 8.  I am about to order them.
Here's how they look on me in black:
5.  BANANA REPUBLIC | Dark Silk Popover Blouse in cosmic teal | 100% silk | £75
What a beautiful colour, I love this sort of jewel tone.  Not sure how its "cosmic" teal, but the name did make me smile.
6. BODEN | Alice high heel shoes in navy / amethyst | Suede upper, leather lining and sole | 8.5cm | £119
Oh Reader, these shoes drove the entire outfit.  I saw them, I love them and I just want them to be a little less expensive before I order them (I have shopped extensively in the sales).  If, however, you are ready to buy these utterly gorgeous, interesting, but entirely wearable heels, F3Z3 gets you 20% off.  Alternatively, it looks as though all shoes will be 20% off, on Friday.
I see that these heels come in 2 heel heights: 6 cm ("mid heel") and 8.5cm ("high heel").  What a good idea, as some women really struggle with high heels.
——————
Thank you for reading, Reader, and I hope you are off to a super start to your week.