I recently wrote about the key pieces one needs for a business casual capsule wardrobe, and I included the J Crew Tippi merino knit as THE key knit.  But, is it?  Because, Reader, there is a new kid in town: the Uniqlo extra fine merino round neck.  Last season their round neck was a scoop neck.  Quite annoying.  Not this time; its a proper round neck.  So let's have a little comparison between the J Crew and Uniqlo knits:
In one corner we have the J CREW | Merino Tippi sweater in north sea blue | merino wool | £69.50:
Here's how it looks on the model: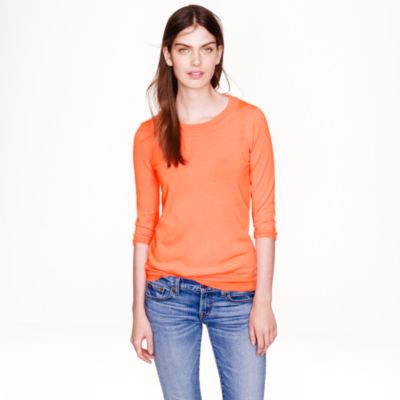 I own a couple of the Tippi knits, in size S, and can confirm that the photo above accurately represents how they fit.
And, in the other corner, we have the UNIQLO | Extra Fine Merino Crew Neck Sweater in 66 Blue | 100% extra fine merino | £19.99:
Uniqlo don't have any photos of this knit being modelled, but fear not, Reader, for you have me.  Here I am in the blue in size S:
And here I am in the size M (looking, unintentionally, a bit mean, sorry):
Now, I appreciate that I don't exactly have model proportions, and I was wearing 2 tops under the knit.
However, the photos do illustrate the key similarities and differences between the knits:
both knits are are finely knitted

.  In the lighter colours this means that they are semi sheer, and benefit from layering over a vest or a Uniqlo Heattech top when its quite cold;
the

J Crew knit has 3/4 length sleeves

.  This can be annoying in winter (cold wrists), or if you want to wear it over a long sleeved top or shirt.  However, if you like to push your sleeves up, this is a better knit;
the

Uniqlo knit sleeves are quite long on me

, particularly in the larger size;
the

J Crew knit is narrower on the arms, wider on the body

, whereas 

the Uniqlo is generally a narrower, but straight cut knit

.  Whether this is a good or bad thing, depends on your shape.  To get the same sort of fit around my middle as the J Crew Tippi in S, I had to size up to the Uniqlo in M, which meant the sleeves are a little fuller than I need.
the

J

Crew is £70

(full price) and the

Uniqlo is £20

.  Here we have a key difference.
So, whether the Uniqlo extra fine merino knit is better than the J Crew Tippi depends on your shape and budget.  For me, when the weather gets cooler, I plan to buy one of the Uniqlo knits in the M in the grey you see above.  I often accidentally shrink my knits, and in this case, that will be fine.  However, I won't wait too long to buy one as I know these Uniqlo knits sell out fast.  There are many other lovely colours, to choose from, too, such as:
I thought the brown was a bit drab:
Until I saw this photo of Natalie Massenet in a similar looking knit, looking anything but drab:
What about you, Reader, do you have a favourite knit?  When I see this season's Gap merino knit, I will try that on, too, as it may be another contender.  Their colour range isn't usually as good as at Uniqlo, but I will be interested to see if the shape of their round neck fits me better.