Well, Reader, one hint of sunshine and I'm already looking forward to spring and summer, when we can shake off our winter coats and just rely on a jacket or blazer to keep us warm.  I love a great jacket or blazer, and find its something other women always seem to pay attention to or comment on.  Perhaps its up there with bags and shoes, in terms of things women love to own and wear? So, here are the Top 10 jackets and blazers I have seen on the high street.
The details of the individual pieces are:
1.  JAEGER OUTLET | Matelassé Curved Hem Jacket in black | 57% Cotton, 43% Polyester | £129 (was £199)
This is rather expensive for polyester / cotton, but the shape looks terrific: sleek and flattering.  Perfect for when you need something less formal than a suit jacket, but but still somewhat traditional.
2.  H&M | Short jacket in black and cream | 58% cotton, 42% polyester | £20.99 (was £29.99)
At the other end of the expenditure spectrum is this great looking blazer that H&M did last season (I did an outfit post on it here) and, thankfully, again this season.  At the moment its 30% off.  Its well shaped, thick and the sort of thing that you would wear both to work and on weekends.
Here it is in an outfit board I put together:
If you would like something similar in black and white, and have a little more to spend, there is the BANANA REPUBLIC | Drapey Tweed Blazer in black and white | 80% cotton, 20% polyester | £99.50.
3.  ZARA | Buttoned short army jacket in black | 100% cotton | £59.99
The two brands that consistently bring out a range of really great jackets and blazers are Zara and Mango.  I clearly love this jacket as I have already bought it and written about it (here).  Very on trend, given the amount of (paid) press coverage the Gucci drummer jacket (£2720) is getting.  I adore the Gucci jacket, but the detailing makes it less wearable for work than the Zara version.  I'm not even commenting on the price.
I have also seen and admired this chic waffle textured cotton jacket, but the rest of Zara's blazers and jackets seem to be polyester.  I expect that more will come online, soon.
4.  MANGO | Textured jacket in natural white (AFRICA4) | 100% cotton.   Lined | £49.99
Mango often stock a fantastic range of cotton jackets and blazers for the warmer months, and this is just such an example:
5.  MASSIMO DUTTI | Coral short coat | 80% wool, 20% nylon | £145
Massimo Dutti seem to have an aversion to taking photos where you can see the whole of their, really quite lovely, things, so I am including a few of this short coat, so you can see it.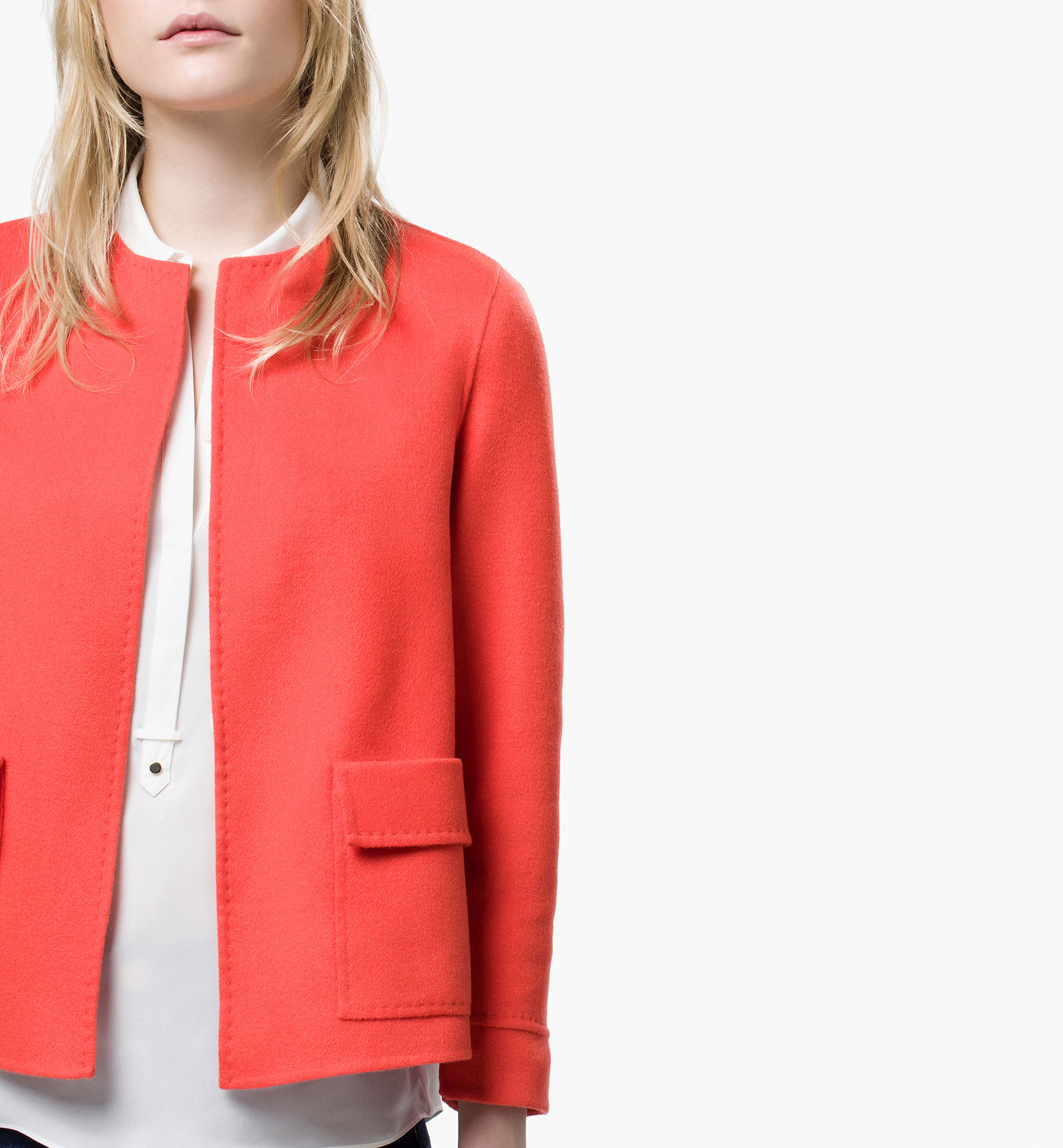 6.  JAEGER OUTLET | Puppytooth jacket | 96% Wool, 4% Elastane | £75 (was £220)
I wasn't going to include anything else from Jaeger, but then I saw this cropped jacket.  It is very similar to a Balenciaga jacket I saw a year ago in the Gold Label section of my local TK Maxx.  The workmanship was incredible, and this sort of shaping is rarely achieved on the high street in anything other than scuba fabric.   So, to see this wool, is terrific, very luxe for less. The matching dress has sold out, but I would simply wear it with a white collarless top and black cigarette trousers.
7.  MANGO | Bead cotton jacket in black (ELRIVINO) | 100% cotton | £59.99
8.  REISS | Orchid cropped zip jacket in grey | 80% wool, 20% polyamide.   Lined | £120 (was £245)
After my recent Reiss sales picks post, I thought I'd best limit myself to only including one of their jackets, so I have chosen this.
If I could include another from Reiss, it would be this:  REISS | Pinot fitted fishtail jacket in shell pink | 66% Wool 30% Polyester 4% Polyurethane | £135 (was £225))
9.  MANGO | Beaded ethnic jacket in pink (CHANIA) | 65% cotton, 35% polyester | £49.99
This is a jacket probably best suited to casual Friday or informal workplaces, but its just so Isabel Marant for less and pretty, that its on my shopping list.  I should buy it soon, as I predict it will be one of the more popular high street jackets of the season.
I really shouldn't include any more Mango in this post, so I will only quickly mention this cotton geometric jacket, and this cotton frayed hem jacket and this cotton blue trimmed jacket.  Really, their summer jackets are outstanding!
10.  GERARD DAREL | Valence Jacket in Navy Marine | 100% wool.   Lined | £93 (was £310)
I suggested this to a dear friend, when she was looking for a navy jacket she had seen on Stella McCartney, so this was on my mind when I wrote this post:
—————-
Thank you for reading, Reader, have a brilliant day.